Year 9 World's Climate Crisis Guest Speaker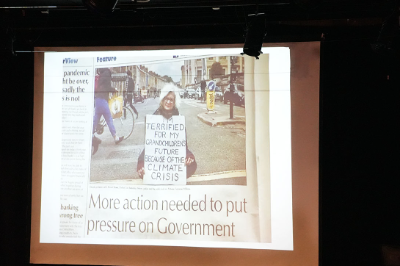 In Year 9 Humanities, students are inquiring into perspectives. They are focussing on how our perspectives shape our understanding of local and global issues.
Anne Taylor, a former teacher from Oxford and activist for the Extinction Rebellion organization since 2018, was the guest speaker of last week's Year 9 Humanities class, in order to help students understand the seriousness and urgency of climate change.
The Extinction Rebellion group consists of people who use non-violent protest and actions in order to create awareness about the problems caused by climate change such as flooding, wildfires, droughts, and pollution. They believe that we need urgent action now to save our planet from extinction.
Ms. Taylor spoke to the class about how important it is for young people to take action and why it is important that they do so now. She also shared her story about how she became involved with the Extinction Rebellion group and why it's so important for the students to do their part in fighting climate change, no matter how small it may seem. Through the use of photographs, she demonstrated how people can act non-violently through the Arts. Find more information about Anne's story here.
Year 9 now has a better understanding of why some people decide to take action in order to raise awareness.