Child Safeguarding Workshop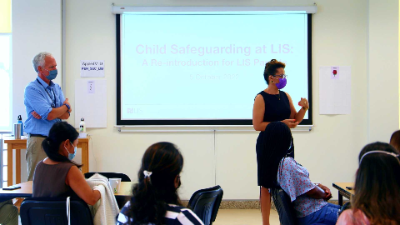 We welcomed Parents, this week, for an interactive workshop on our commitment to child safeguarding. As you know, at LIS, the well-being and protection of students is our main priority. We also believe that safeguarding and protecting children is everyone's responsibility.
In this spirit, Mr. Jonah Rosenfield and Ms. Mila Barradas – our Designated and Deputy Designated Safeguarding Leads – directed the Parents through a conversation in the Library where they shared the school's guidelines on the topic and our system of care. They also listened to their opinions and concerns.
During this session, all Parents got an opportunity to know and better understand our training procedures for staff and service providers, the campus safety features, our culture and philosophy, our staff recruitment best practices and background checks, our perspective on home care, and our approach to keeping children safe. We also explored ways to work in partnership with parents throughout the year.