LIS University Counselor participates in ISCA's Virtual Collaborative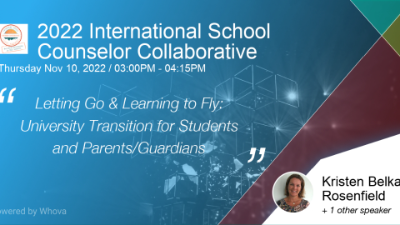 A former colleague (Liz Kozodoy who is now at International School Amsterdam) and I developed and co-presented a 75 minute session for international school counselors around the world for the International School Counselor Association (ISCA) Virtual Collaborative. The Collaborative included 40 workshops over nine days and our session, "Letting Go and Learning to Fly; University Transition for Students and Parents/Guardians" was about various support and guidance that schools, parents/guardians, and institutions of higher education might provide to students during their transition to university. We discussed current research and shared lesson plans/workshop ideas for helping both students and their families prepare for the inevitable challenges and culture shock that take place after high school graduation. It was a thrill to have Tina Quick, author of the book The Global Nomad's Guide to University Transition and one of the featured speakers at the Collaborative, attend our session and later in the Collaborative, I attended her session titled "Belonging in Transition" which was informative and inspiring. I have her book in my office and for years it has been a go-to resource in my work with cross-cultural students.
Here is the full description of our session: "Cross-Culture Kids who repatriate for university make a "double-adjustment" in their transition–in addition to the common move towards independence, CCKs undergo a cultural shift, most often to a place that should feel like home but frequently does not. And CCK parents/guardians–who are in many cases laser-focused on the application process and outcomes–often don't prepare themselves for what happens after their child moves away. This session will provide resources to support your work preparing both seniors and their families for the inevitable culture shock, offer ideas for a crash course in life skills, and examine changes in the family relationships that lie ahead."
Kristen Rosenfield
University Counselor