Secondary Art Exhibition Show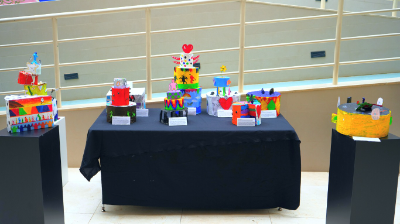 Years 7 through 12 are displaying a collection of artworks, from November 22nd to December 2nd, at the Mwana Pwo building.
These art pieces were made during this month's units of inquiry, the secondary Oil Painting CCA, and the workshop with visiting artist Alvaro Macieira during our celebration of Angola Independence Day.
The display includes artwork from the below classes/units: Y7- Unit: Communication Through Products : Artist Inspired T-shirts; Y8- Unit: Challenging the Audience: 3-D Cake Sculptures; Y9- Unit: Cultural Expression: African Contemporary Textiles;Y10- Unit: Representation Through Artistry- Beauty in Sea Life Artworks; Y11- Unit: Hybrid Representation- Hybrid Digital Portraits; Y12- Identity Portraits - Oil and Acrylic Paintings.
Feel free to stop by anytime and enjoy our young artists' talent.