Y9 Poetry Slam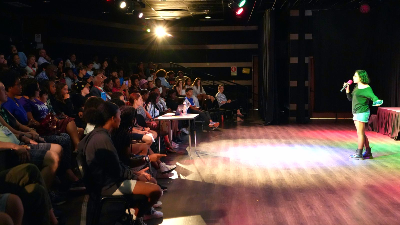 Year 9 students presented a collection of beautiful poems inspired by their English L&L statement of inquiry "Through creative self-expression, we can impact others to make change globally for better opportunities in the future" at Mwana Pwo Theatre.
During the drafting process students reviewed professional spoken word artists and poets, Year 9 poems from last year, and made connections to the UN Sustainable Development Goals considering social and environmental goals they feel passionate about.
The session was attended by members of our community, including parents, teachers and Year 8 & 10 students.
Here's the list of the poems:
"Dear Women" by Gabriela

"Is it my fault?" by Aurya

"A rose by any other name" by Diana

"A Bulimic Girl" by Aysha

"They Swear They Care" by Jeanine

"Our Nest" by Genevieve

"Friday Night" by Kristian

"All I Wish For" by Ivana

"I'm Just a Teenage Girl" by Lueji

"It's Burning" by Daiane

"The Shower" by Nifemi

"50 Year Old Self" by Ester

"Crisis comes with prices" by Kanda