Silly Socks for Skating Update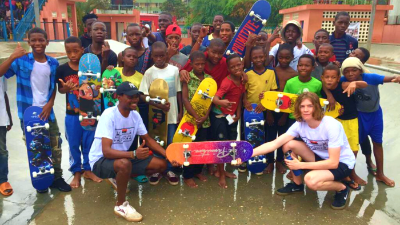 For Y11 student Finn's service as action project last year he decided to make a difference in a local skateboard community by raising money in order to buy much needed skating equipment. He did this by organising the "Silly Socks for Skating" event where LIS staff and students wore their silliest socks to school, watched a skating demonstration and donated money. The generosity of the community far exceeded expectations and 961,465.99 AOA was raised.
Jessy Mendes, the director of the The Angola Skateboarding Union (ASU) and teaching assistant at LIS, was delighted to be able to use that money to purchase 12 complete boards, 15 pro decks and 20 grip-tapes. This equipment will help to promote, develop, grow and improve the sport of skateboarding in Angola by supporting local youth through skating. 6 boards are housed at the park for morning and afternoon classes and 6 have been given to individual skaters.
On Saturday 26th November Finn helped Jessy deliver the skateboards to the ASU skate park at a "Skate 4 Peace" event! Please see the video.
Thank you LIS community!