Y7 Well-being session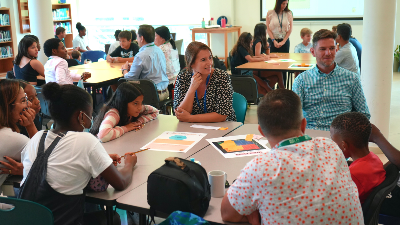 Emotional intelligence is the key to building stronger communities, and that's precisely what Year 7 students and their parents focused on during a recent Well-being session led by Mr. Jonah Rosenfield, the school's Designated Safeguarding Lead (DSL). From self-reflection to group discussions, the session aimed to explore emotions and strengthen connections.
They worked together in small groups to create an emotional intelligence charter. Each group discussed the importance of a specific emotion and how it is displayed at school. They then discussed actions that the Year 7 community can take to ensure that everyone can feel that emotion and ways to prevent and manage conflicts with each other.
With a better understanding of emotions and how to manage them, the Year 7 will be able to help create a more positive and supportive school environment for all.