Year 7 t-shirt design workshop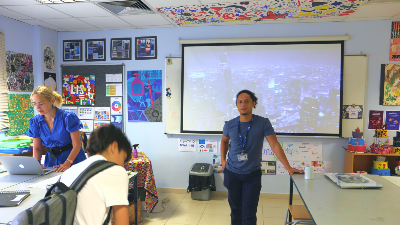 Year 7 students recently had a workshop on t-shirt design for the Interdisciplinary Unit (IDU). Mr. Sérgio Ferreira, Graphic Designer, shared his experience in the field and explained how design can be used to create a more visually appealing world. He also showed some of his paintings and past projects to inspire the students.
In the IDU, Year 7 students combine Math, English LA, and Portuguese LA to explore the concept of sustainable architecture. The students are tasked with creating a proposal to advocate for more sustainable spaces at LIS and using their skills in measuring, comprehension, vocabulary, presentation, and scaled drawing to showcase how communities can be organized for a hopeful future.
Mr. Sérgio's presentation was a valuable addition to the interdisciplinary learning process as it allowed students to see the practical application of design in real-world scenarios.