Year 4 Portuguese Language skills showcase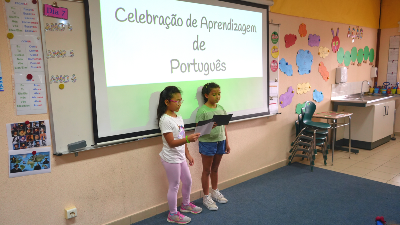 Year 4 students proudly presented their language skills during the Portuguese Language Acquisition Celebration of Learning. With their dedicated teachers, Ms. Constância and Ms. Lóide, leading the way, the students have been working hard to develop their fluency in the language through various engaging activities such as debates, descriptions, games, and stories.
The highlight of the event was undoubtedly the students' performances, where they had the opportunity to demonstrate their newfound knowledge and express their creativity. The parents were also in attendance, eagerly participating in the celebration and supporting their children in their language journey. The warm and supportive atmosphere was palpable, as the students and parents shared in their excitement for the Portuguese language.
It was a wonderful event that showcased the students' hard work and dedication, as well as the dedication of their teachers. Congratulations to all involved for a successful Portuguese Language Acquisition Celebration of Learning!